Haass Talks: Diplomat meeting groups in Londonderry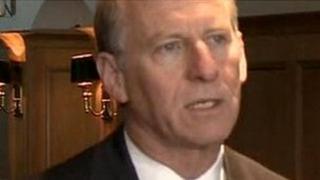 US diplomat Richard Haass is holding meetings in Londonderry with business leaders and other groups.
Dr Haass is back in Northern Ireland for another round of talks about flags, parading and the past.
On Monday, he said he believed the end-of-year deadline to resolve some of the most divisive issues is "do-able and desirable".
Dr Haass has said this phase of discussions would involve exploring the issues in greater detail.
Philip Gilliland, president of Londonderry Chamber of Commerce, said he was delighted that Mr Haass was meeting the local business community.
"He's also meeting the voluntary community and other sectors," he said.
'Sense of ownership'
"Derry as everybody knows is good way down the journey that is Northern Ireland, probably further down the journey than most places, it's got a very good story to tell and obviously there still remain issues, but I think we've come a lot further than most places.
"I think the reason for that is because in the last 15 or so years, in Derry, there's been a sort of a sense that when anything happens, it's up to us, the entire community, we feel a sense of ownership over the city, we feel a sense of ownership over sorting out the challenges and getting them right, and I think that's one of the lessons that maybe other places could learn from."
Dr Haass began chairing the talks in September.
The discussions, to include other groups as well as political parties, will continue throughout this week.
Later, all the parties will be brought together for round-table talks.
Dr Haass served as US envoy to Northern Ireland from 2001 to 2003. He was chosen to chair the discussions by the first and deputy first ministers.