Fire service attends electrical fault at Derry hospital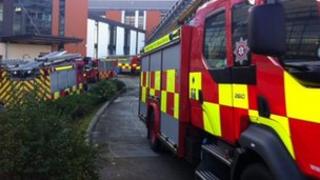 Some outpatient services at Altnagelvin hospital in Londonderry have been affected by an electrical fault.
The Fire Service responded after an alarm was activated in the basement of the South Wing on Monday morning.
The hospital's acting medical director, Alan McKinney, said the fault had been identified and patients and staff had never been in any danger.
"Fire Service were able to identify the piece of equipment and our engineers are working to restore that," he said.
Mr McKinney said the alert centred on a water-heating processor which helped sterilise equipment for the endoscopy unit.
"Most of our outpatient services are now back to normal but there may be a little lag regarding endoscopy," he said.
"We have advised patients that, if they are due to go in for an endoscopy on Monday evening or Tuesday morning and they haven't heard from us, to contact the number on their appointment letter.
"But we do intend to contact all patients who are affected."