Broighter Gold: 'A Limavady story for generations'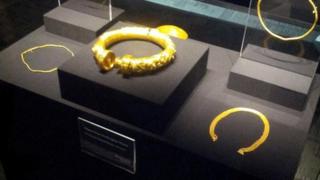 A hoard of Iron Age gold has been returned to its original home in County Londonderry for a two week exhibition.
Broighter Gold was found by Thomas Nicholl and James Morrow in a field on the Broighter Road near Limavady in 1896.
The treasure includes a golden boat, a torc and a bowl.
The exhibition will be on display in the Roe Valley Arts and Cultural Centre until 23 November.
A spokesperson for Limavady Borough Council said: "Due to the fragility of the gold boat, regrettably it cannot be part of the loan, however, visitors can view it in the hologram created for the arts centre."
The hoard arrived on Monday afternoon with a security guard from the National Museum in Dublin.
'Legacy for Limavady'
Ronnie Nicholl, grandson of Thomas, said it will be talked about for generations to come.
"It's nice to know that it was someone in your family attached to the ploughing up of the items and the history that is attached to it is always talked about, even up to this day.
"He always said he was ploughing with a new Canadian plough at the time and he said the plough caught on something.
"It wasn't until the items were washed later, the men realised that they were of some value. They weren't just brass."
Doreen Cochrane, granddaughter of Thomas, said she loves to hear children talk about the hoard today.
"We have been brought up with this all our life. It's just the Nicholl history and it's fantastic that it has been brought back to Limavady.
"People talk about it even to this day. My grandchildren come in from school asking about the hoard because they have to do a school project on it. It's overwhelming."
Eileen Magee, the Arts and Tourism Manager at Limavady Borough Council, said the borough had wanted to have the treasure returned for a long time.
"This is a very special moment for Limavady and its people.
"The items dates back to 100BC and the stories never get old.
"It will be a great legacy for the area and a Limavady story for generations."