Londonderry postman: 'letter bomb could have killed me'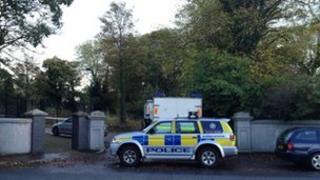 A Londonderry postman, who unknowingly carried a letter bomb for over an hour, has called for better training for postal staff.
The letter bomb was delivered by the postman to the Public Prosecution Service (PPS) office in the Waterside area of the city in October.
Police said the bomb was similar to two other devices found in postal sorting offices in County Antrim.
They were addressed to the chief constable and another senior officer.
'Freaked out'
The Royal Mail employee, who does not want to be named, said he carried the device with him into sheltered accommodation for the elderly before going to the PPS building.
"I've taken off work for a couple of weeks to get over it," the man said.
"I was walking up the lane towards the PPS building and that's when I thought something wasn't right with the package.
"It wasn't your normal mail going into that building. The stencilled writing was very old school so I let security know straight away.
"It was in my pouch bag for about 40 minutes and it was also in the van with me for around 15 minutes.
"It's crazy to think that a viable device was just sitting there. I heard on local radio that it was viable. I freaked out a bit and my legs turned to jelly.
"You start wondering that you could have no hands because of it or you could be dead today."
The man said that the letter bomb was handled by other men on the same day.
"Some of them are spooked out and some of them are angry," he said.
"Our training is nowhere near adequate. You just don't think these things would happen now that there is peace.
"Better training has to be brought in. It could have killed me."
'Safety of our people'
Dissident republicans were blamed for sending the bombs.
General manager for Royal Mail in Northern Ireland, Gary Crawford, said: "Our employees are regularly briefed on these protocols which are under constant scrutiny and review.
"All of our staff in depots across Northern Ireland, including in Londonderry, have been fully briefed over the past week on what to look out for and what to do if they believe any item of mail is suspect.
"Anyone in our Derry office who still has concerns must talk to their line manager so we can discuss these issues on a one to one basis. The safety of our people is our number one priority at this time."