Man rescued as van hangs from bridge in County Londonderry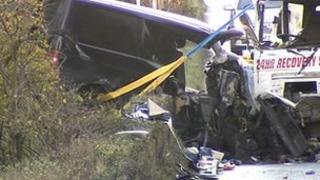 A man has been rescued from a van suspended over a river bridge following a crash near Draperstown, County Londonderry.
The van was left hanging six metres above water after a lorry and van were involved in a collision at Altagoan Bridge on the Magherafelt Road.
One person is in a critical condition at the Royal Victoria Hospital and two others are said to be stable.
Specialist rescue equipment and trees were used to secure the van.
Group commander Maurice Rafferty said the man had been at some risk.
"We were greeted by quite a complex rescue scene when a van was seen hanging over the bridge side above the river in the area," he said.
"One occupant was in the van and two were in the lorry.
"We had to call in some specialist assets from Belfast and from the Crescent Link station in Derry due to the risk of the vehicle both going into the river and that water rescue aspect that could have happened.
"It was quite a remote area for not only ourselves but for the ambulance service and the police."
Ambulance and fire crews have been praised for their role in the operation.
"The man in the van was at a significant risk and I just would just like to recognise the actions of the first attending crews," said Mr Rafferty.
John McClintock, one of the paramedics who went onto the van, said it was a very dark situation.
"The front driver wheel of the van was the only wheel in contact of the bridge.
"The risk of it falling and entering the water was very, very high. We had to secure the van by strapping it to a lorry and trees.
"The van was moving as I went on to it and it was vibrating.
"It is a very challenging experience but there was a team dedicated to saving a life.
"It took two hours in order to get the man out alive. We were genuinely concerned that he was going to lose his life."
Police said the road has reopened.