Broighter gold visits Limavady in November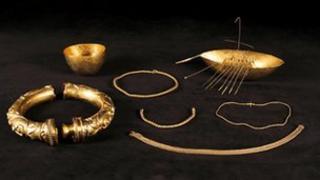 The Broighter Hoard of gold ornaments, dating back to the Iron Age, will be returning home to Limavady, County Londonderry on Tuesday 12 November.
The hoard is a collection of gold artefacts found by Tom Nicholl on farmland near Limavady in the 19th Century.
The exhibition will be on show in the Roe Valley Arts and Cultural Centre until 23 November.
It is on loan from the National Museum in Dublin.
The treasures include a golden boat, torc and a bowl.
'Lasting legacy'
The exhibition will explain Limavady's connections to the gold, both from the archaeological perspective and the family memories that have been preserved with pride and affection for over 100 years.
A willow replica has also been created by Louise McLean, assisted by senior pupils from Rossmar School, Limavady.
A spokesperson for Limavady Borough Council said: "Due to the fragility of the gold boat, regrettably it cannot be part of the loan, however, visitors can view it in the hologram created for the arts centre a few years ago.
"All of this will ensure a lasting legacy for Limavady when the hoard moves on to Derry-Londonderry for a further display period until Sunday 8 December."
During the Broighter Hoard's stay there will be additional exhibitions including the Matisse Drawing with Scissors artworks, the Raymond Watson Towards Broighter Exhibition, the Peace III Plantation Exhibition, the Willow Boat and treasures of photographs and gold etchings created by local primary schoolchildren.