Fintona music concert crush could have 'killed'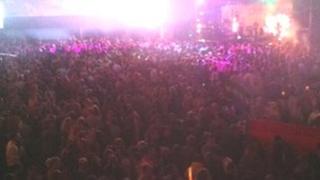 One of the authors of a report into the Hillsborough stadium disaster, in which 96 people died, has said there should be an investigation into safety precautions at a country music concert in County Tyrone.
A number of people sustained injuries in the Ecclesville centre in Fintona.
People were "crushed and trampled" on Saturday and singer Derek Ryan had to stop performing.
Prof Phil Scraton said fans were minutes away from disaster.
AJS Promotions, who organised the concert, said they were overwhelmed by the crowd.
Police said officers managing traffic spoke to the organisers to get more doors open.
'Four minutes to live'
Mr Scraton said: "Déjà vu of Hillsborough is the first thing I thought when I saw the video footage.
"These people are in a facility that is not built to accommodate a concert.
"Crowd safety has to be an absolute priority.
"If people go down on the floor and people fall on top of them, they have no more than four minutes to live. We see this happening all over the world.
"The biggest issue that has to be answered here is based around the risk assessment. The council needs to give an explanation.
Investigation
"When something of this magnitude goes wrong and people are hospitalised, that means you are minutes away people being seriously injured or even killed.
"The licence giver is the council. They have a responsibility," Mr Scraton added.
Omagh District Council said in a statement that it was "carrying out a comprehensive investigation into the event on Saturday evening".
The council confirmed that it issued the entertainment licence to the Ecclesville Centre, which is owned and run by Fintona Regeneration Initiative.
The licence permits music events and concerts to be held at the venue.
The council said it was undertaking its investigation in "conjunction with the PSNI and NIFRS, in the context of its statutory enforcement powers in relation to licensing and health and safety".
"It would not be appropriate to make any further comment until this investigation has been concluded," the council's statement added.
'Absolute disgrace'
Rachel Noble, whose sister's hen party was at the event, said: "I'm still disgusted by what happened.
"It was an absolute disgrace and scenes that I have never seen before in my life. It really is a miracle no-one was killed.
"It all started with pushing and shoving and as more people came streaming into the hall it became horrendous. It was terrifying."
Police at first said they had not been called to the event over crowd safety but later said officers were there "as part of the traffic management plans".
In a statement the Police Service of Northern Ireland added: "Officers became aware of an issue in relation to the number of people attending and spoke to the organisers in order to ensure additional doors were opened for entry and exit.
"A number of members of the public were injured during this event and a number of police officers also received minor injuries."