New York horses retire to a field in County Donegal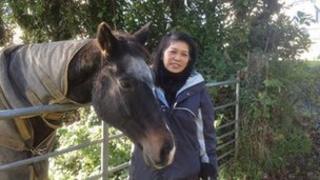 What lengths would you go to to keep your pets happy?
Cynthia Wong, from New York, has flown her two horses over to to the Republic of Ireland so she could retire them to a field in County Donegal.
She spent £16,000 in order to fly the two horses over.
One of the horses, Toy, died last year but the other one, Mist, is doing well at the age of 30.
"After much thought, I made the decision to take my horses to a place that is peaceful and an area that has soft ground for their feet," said Cynthia.
"My trainer and his wife recommended Donegal and it wasn't an easy decision because it meant I couldn't see them every weekend.
"Mist's real name is Irish Mist and he really enjoys the Irish weather and the air.
"They had to fly to Amsterdam for a while before they were transported to Dublin and then Donegal.
"Yes it was expensive, but my animals are my priority. I have cats at home and some of their bills can get quite high too. It was important for me that they were going to be in a happy place.
"I try to come at least twice a year. I know they are fine but I just like to see them. Donegal is the most wonderful place for them."