Derry SDLP councillor James Carr fined for driving offences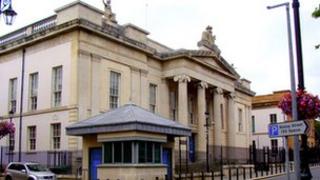 An SDLP member of Derry City Council has been fined £300 and given a conditional discharge for 12 months at Londonderry Magistrates Court after admitting four driving offences.
James Anthony Carr, 26, from Merriman Court also had six penalty points endorsed on his licence.
The court was told that police were called to a road accident at Aileach Road on 5 September.
A prosecutor said Mr Carr had no insurance or no 'L' plates on show.
A youth who ran onto the road from behind a parked bus was struck by a van driven by Mr Carr.
The prosecution solicitor said that while Mr Carr was not at fault for the accident, it later transpired he had no insurance, no 'L' plates, was not accompanied by a qualified driver and had taken the van without the owners consent.
A defence solicitor said Mr Carr took the van to buy formula feed for his baby.