The Venue in Derry to be dismantled says Nelson McCausland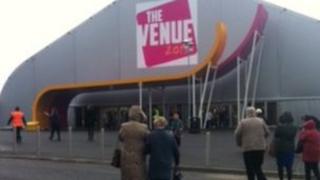 Social Development Minister Nelson McCausland has said The Venue, Londonderry's concert space for the City of Culture year, will be dismantled in January 2014.
The Venue, which cost £4m, is funded by the Department for Social Development.
Mr McCausland said no private sector investor had come forward with an interest in retaining it.
The Venue hosted major events in 2013 including Sons and Daughters, One Big Weekend and Fleadh Cheoil na hÉireann.
It will cost almost £500,000 to take down the structure, according to the DSD.
'Huge asset'
It is based at the former Ebrington Barracks in Derry.
Mr McCausland said: "In September, I announced that the department would investigate whether there is potential within the private sector to keep The Venue beyond the end of 2013.
"To that end, an information session for potential investors was held on 11 October.
"From the turnout and discussions held at the event, it is apparent that there is no interest from the private sector to keep and run The Venue after 2013."
The Department of Social Development said the information session had a poor turnout, with only one potential investor turning up on the day.
That investor advised departmental officials that his interest in operating The Venue beyond 2013 will be taken no further on the grounds the costs of keeping and running the temporary facility would be too high to allow a profit to be generated.
"The Venue has made an important contribution to the success of the UK City of Culture 2013. However, The Venue is a temporary facility and from the outset it was planned that it would be dismantled in January 2014," Mr McCausland added.
"As there is no appetite within the private sector to finance and run The Venue beyond 2013, my department will proceed with the plans to commence the dismantling works in January 2014."
SDLP MP Mark Durkan said: "I regret that private sector interest in using or taking on The Venue has not been forthcoming.
"The Venue has been a huge asset to Derry during the City of Culture year.
"People have seen the real difference it has made and the range of events it has been able to accommodate and attract.
"It would seem, at this particularly difficult economic time, that the numbers and prospective revenue for such private sector players have not stacked up.
"However, I am one of those who firmly believes that Derry needs a venue of such scale and capacity as a permanent fixture in the city."