Turner Prize exhibition opens to public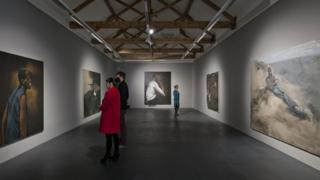 One of the world's leading art events, the Turner Prize exhibition, has opened to the general public in Northern Ireland.
The exhibition is being held outside England for the first time.
The entries are on show at former Army barracks at Ebrington, in Londonderry. Derry is the UK City of Culture 2013.
Four artists are in contention for the award. The winner will receive £25,000 and the result will be announced on 2 December.
Director of Tate Britain, Penelope Curtis, said: "Derry was an obvious place to bring the Turner Prize with it being the City of Culture year.
"We wanted the Turner Prize to be more diverse and Derry was the right place.
"London gets lots of contemporary art but Derry gets less.
"Bringing it to the barracks seemed quite a controversial decision at the start but Derry feels very different now after my first visit 20 years ago.
"This is the most diverse Turner Prize ever put on and this is a real chance for being part of history."
Journalists from across the world descended on Derry for a preview on Tuesday morning.
Chief executive of the Culture Company, Shona McCarthy, said: "This is absolutely amazing for the city.
"This is a world class gallery space at Ebrington Square.
"It's exciting for our young people to have this in their city."
The other shortlisted artists will each receive £5,000.
Derry-born artist Willie Doherty said: "We have reached the main point of the year in my eyes.
"I'm not convinced that this space at Ebrington should be turned into an office space.
"We need to keep this as an art gallery."
Established in 1984, the Turner Prize is awarded to a contemporary artist under 50, living, working or born in Britain, who is judged to have put on the best exhibition of the last 12 months.
Lynette Yiadom-Boakye, who lives and works in London, is shortlisted for her Extracts and Verses exhibition at the Chisenhale Gallery.
She is of Ghanaian descent and is the first black woman to be in contention for the award.
Glasgow-based David Shrigley is best known for his humorous line drawings, but also makes sculptures, photographs, paintings and animated films.
His work, which combines jokes and commentary, can be found on greetings cards, in books and in magazines, as well as in galleries.
Born in Lille in 1978, Laure Prouvost won the fourth Max Mara art prize for women in 2011 for her short films and installation work.
Based in London, she is shortlisted for her new work Wantee, featured in Tate Britain's Schwitters in Britain exhibition, and her two-part Max Mara art prize installation.
Born in 1976 and based in Berlin, Tino Sehgal has been shortlisted for his "pioneering" projects This Variation and These Associations.
The latter, staged last year at Tate Modern in London, invited the public to interact with volunteers in a "live installation" staged in the gallery's expansive Turbine Hall.