Yugoslavian hand grenades found in Londonderry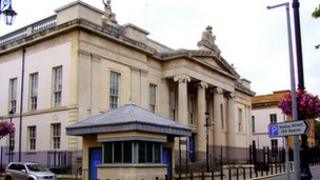 Londonderry Magistrates Court has heard how two Yugoslavian hand grenades, similar to those used in the killing of two police officers in England, have been found in a flat in the city.
They were discovered after a man was arrested and charged with possessing weapons, explosives and drugs.
Gary McPhillips, 29, had previously served a 32-month jail sentence in Belgium for trafficking in narcotics three years ago.
He was arrested on 20 December 2012.
A police officer said the weapons and explosives were found in a green storage box in the attic of a four storey building at Hawkin Street, Derry.
Drugs were also found in the house valued at £20,000
The officer told the court that among other items found during the search were a homemade machine gun with a suppressor, two hand guns, a Taser gun and a CS gas canister.
The officer said his inquiries in the case were continuing not only in Northern Ireland but also in Germany and Switzerland.
He said he opposed the defendant being granted bail because of a fear of him re-offending and because he believed the defendant might not turn up for any trial.
Applying for bail a defence barrister said the defendant should not be held in custody in perpetuity.
The district judge adjourned the bail application until 4 November to enable the public prosecution service to have a decision by that date on a preliminary inquiry hearing.
The defendant was remanded in continuing custody.