Third board member quits Derry's City of Culture company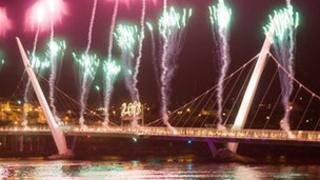 Three members of the board of Londonderry's Culture Company have resigned this month.
Ana Leddy stepped down on Friday from the body that is managing and delivering the programme of events for the UK City of Culture this year.
She said she resigned to "challenge" plans to wind up the Culture Company three months earlier than expected.
Claire McColgan also stepped down last week, and Anna Cutler left the board earlier this month.
In her resignation letter, Ana Leddy, who is a former head of radio at RTÉ and editor of BBC Radio Foyle, criticised plans to wind up the Culture Company at the end of March, rather than the end of June.
She said she is deeply concerned that this may affect the legacy of Derry's City of Culture year.
Claire McColgan oversaw Liverpool's legacy after its year as European Capital of Culture in 2008.
Fears
In a statement, the Culture Company thanked Ana Leddy and Claire McColgan for their contributions. Derry City Council also thanked them in a separate statement.
Earlier this month, Anna Cutler from the Tate Gallery also left the board. She did not explain her move publicly, but the Culture Company said she had resigned for personal reasons.
There were fears that her departure would affect the Turner Prize, which is due to open this week in the city.
However, a Culture Company statement said: "Her action has had no impact whatsoever on the running of the Turner Prize."
Derry was selected as the UK's first City of Culture in July 2010.
It has already hosted a number of significant events, including the All-Ireland fleadh in August.