Personalised medicine research centre could create jobs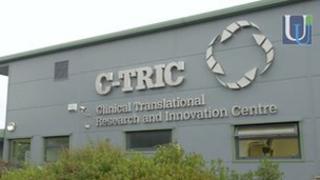 Up to 50 jobs could be created at a new £11.5m research centre in Londonderry that will focus on managing chronic diseases.
The laboratory at Altnagelvin Hospital in the city is the first of its kind in Ireland.
It will research heart disease, diabetes and cancer.
The facility will be a collaborative project between the University of Ulster and the Western Health and Social Care Trust.
Personalised medicine is an emerging practice, according to the University of Ulster, that examines genetic make-up along with clinical data.
The aim of the research is to prevent, diagnose and treat disease at a patient level.
Professor Tony Bjourson, head of the new centre, said: "A personalised approach to patient care holds huge potential for developing new diagnostic and treatment pathways for human diseases.
"This is one of the most important concepts to emerge from the sequencing of the human genome and Northern Ireland is emerging as an important region within stratified medicine research."
'Respond well'
Eamonn MacDermott, who has type two diabetes, has said he "benefited greatly" from having personalised medicine.
Mr MacDermott said: "Although the centre is a new one, I have been receiving personalised medicine for a while and it can only be a good thing for Derry.
"My doctor was able to tell me that I had a certain type of type two diabetes which meant he could taper my treatment accordingly. This meant I didn't have to be on insulin that long.
"Through personalised medicine I was able to find out that I respond well to a particular tablet."
Professor Bjourson said: "The Northern Ireland Centre for Stratified Medicine will reinforce the university's position at the frontier of world-class research with the potential to make a real difference to the health and well-being of many patients.
"Coupled with the Functional Brain Imaging Centre, the centre will leverage the unique synergy between the computational neuroscience research and Biomedical Sciences Research Institute (BMSRI) research at the Magee and Coleraine campuses."
Dr Maurice O'Kane, the Western Health Trust's head of research and development, said it will facilitate innovative, cutting edge research.
"The Western Trust is excited that our patients and clinicians will be able to contribute to the centre.
"The rapid growth in the prevalence of chronic disease, particularly in our elderly, has highlighted the need for a personalised approach to treatment. This new centre will allow to us do just that."