Barry McCrory murder: Others may be 'in danger'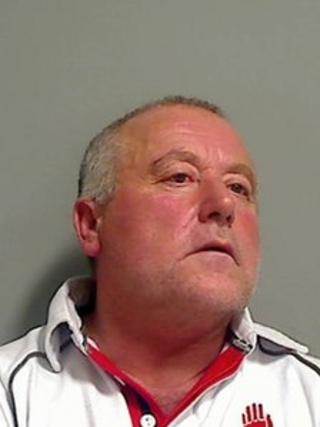 A senior police commander has warned that a number of people in Londonderry may be in danger following the murder of Barry McCrory in the city last week.
Mr McCrory, 35, was shot dead in a flat in Shipquay Street on Thursday morning.
Detectives want to interview Kieran McLaughlin, 58, in connection with the killing and say he "holds key information" about the shooting.
More than 100 specialist officers have been brought in to assist with the search.
Mr McLaughlin was jailed in 2001 for possessing guns and ammunition.
'Dark place'
Chief Inspector Jon Burrows said: "Clearly there was a gun involved in this murder, so we need to approach this man with caution. Several people may also be in danger.
"He's innocent until proven guilty, but releasing his photo and name reflects the concerns we have.
"There have certainly been sightings of Kieran in Donegal and in Derry.
"We have alerted airports and our colleagues across the water.
"This isn't going away. This is causing fear in the community and we need details now."
Mr McCrory's mother Ann told the BBC her son "did not deserve such a brutal and horrific death".
"It's very hard not to think of the circumstances of how he died," she said.
"I can't make sense of it."
Police said anyone with information on Mr McLaughlin should call 02871 210 775. They have urged people not to approach him.
Police found weapons, including shotguns and rifles, in Mr McLaughlin's house in 2000.
The court heard in 2001 that the weapons and a large number of bullets and cartridges were packed in bags in Mr McLaughlin's spare room.
He was sentenced to 18 years in prison at Belfast Crown Court in November 2001.
The police also seized an improvised single shot sniper rifle with telescopic sight.
Several hundred people attended the funeral of Barry McCrory at St Joseph's Church in Galliagh on Tuesday.
Fr Michael McCaughey said: "This death has come violently and it has come tragically but ours is not to judge.
"This was a brutal and horrific murder. Barry was given the gift of life and today he was given back to God."
SDLP MLA Pat Ramsey has urged Kieran McLaughlin to contact the police immediately.
Mr Ramsey said: "I have spoken to the McLaughlin family who are clearly very distressed about the current whereabouts of Kieran.
"Kieran McLaughlin is in a dark place and his family are in a darker place.
"I want to urge Kieran to contact the PSNI so that he can give an account of his movements.
"We all want to see a swift and safe end to the tragic events of last week.
"The PSNI have made it clear that they will make every possible effort to ensure ease of passage into Strand Road Police Station."