£20m data centre for Coleraine 'could create 15 jobs'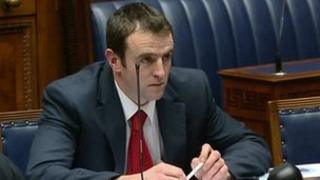 Planning approval has been granted for a new £20m data centre in Coleraine, County Londonderry, that is expected to create 15 jobs.
The investment has been made in order to attract digital companies to Northern Ireland.
It will see the development of a new building on Portstewart Road near the University of Ulster campus.
A data centre houses computer systems and associated components, such as telecommunications and storage systems.
Environment Minister Mark H Durkan announced planning approval for the centre on Thursday.
He said: "This is a good news story for Coleraine. I welcome this type of hi-tech proposal which boosts economic development.
"An investment of this size highlights how Coleraine is ideally positioned to harness its potential to attract digital companies to invest here, due to its super-fast broadband connectivity.
"This development will create jobs and will act as a catalyst to stimulate further similar development, consolidating the role of Coleraine as a digital hub for the area.
Digital hub
"The announcement that new jobs will be created is especially pertinent given the investment conference taking place in Belfast this week.
"This application was turned around in just nine weeks. Speedy decisions such as this emphasise my department's commitment, and mine, to assist business and help strengthen our economy."
The Department of Environment said the development builds on the role of Coleraine as a digital hub with the development of Project Kelvin in recent years.
Project Kelvin is a communications infrastructure investment that connects Northern Ireland to North America, UK and mainland Europe.
"Access to high-speed, high-quality broadband services is now fundamental for businesses to maintain their competitive advantage and expand to develop new markets," added Mr Durkan.
"It is encouraging to see Coleraine being chosen as a perfect location from which to do this."