Men plead guilty over Derry pipe bomb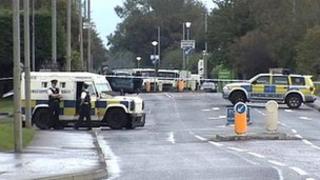 Two men from Londonderry have pleaded guilty to possessing a pipe bomb found by police during a surveillance operation in the city in September 2011.
Eugene McLoone, 56, and Daniel Martin Joseph Doyle, 48, pleaded guilty at Belfast Crown Court to having the device with intent to endanger life.
They also pleaded guilty to causing serious injury to property.
In April, Eamon Terence Cassidy also admitted having the bomb.
Cassidy also pleaded guilty to possessing a bomb between December 2010 and March 2011 which was used in an attack in the Bishop Street area of the city.
McLoone is from Abercorn Road in Derry and Doyle is from Bluebellhill Gardens in the city.
An earlier court hearing was told that when initially arrested on the Buncranna Road, on 26 September 2011, McLoone, the driver, and Doyle, a back seat passenger, claimed they knew nothing about the device which was found under the front seat.
A detective had said that when questioned, Cassidy claimed that while out for a walk, he found the device in the middle of Elagh Road and picked it up and wrapped it in his tracksuit top because he did not want children to be injured.
He further claimed he decided to report it to a local priest and was on his way to the parochial house when he was given a lift by McLoone.
Judge David McFarland adjourned sentence until next month.