Derry City Council bombs: Man arrested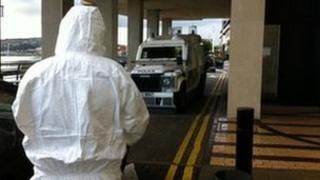 A 40-year-old man has been arrested in County Antrim in connection with an attempted double bomb attack near the Derry City Council offices in September 2012.
The man has been taken to Antrim Serious Crime Suite for questioning.
Police released CCTV footage on Monday of a man they wanted to question about two bombs left outside the city's council offices.
A pipe bomb and booby-trap bomb on a timer were both made safe by the Army.
The pipe bomb was left in a holdall and was at one point lifted by a Foyle Search and Rescue volunteer.
The booby-trap was attached to a bicycle that was chained to the railings at the back of the offices.