Mayor questions Londonderry rail upgrade delay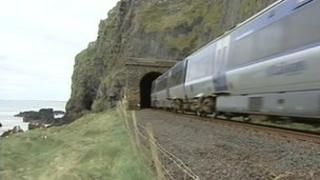 The Mayor of Derry is to meet the transport minister about a delay on the upgrade to the city's railway line.
It was announced in September that the second stage of a £22m upgrade for the Derry to Coleraine railway line was delayed for a further year.
Translink said it was having difficulty finding the right supplier for signalling equipment.
Plans to allow trains to pass each other will not be completed until 2016.
Mayor Martin Reilly also invited railway lobby group, Into the West, to the meeting following a presentation to the Regional Services Committee at Derry City Council on Tuesday.
'Frequent trains'
Phase two of the railway involves major re-signalling between Derry and Coleraine and the introduction of a passing loop between Derry and Bellarena.
The transport minister, Danny Kennedy, said he was very disappointed at the news.
Mayor of Derry, Martin Reilly, said: "We are keen to meet the minister to tease out these problems.
"I wrote to the minister registering the frustration.
"Cullybackey has around 38 trains passing it and Derry has only 18. Into the West also raised this issue.
"We need more frequent trains and we need the journey from Belfast to Derry shortened in order to bring more people in.
"All councillors were in support at Tuesdays meeting about speaking to the minister."
A spokesperson for Translink said: "Like the Minister we are disappointed that implementation of Phase two of the work between Derry and Coleraine will be delayed.
"This is predominantly due to conditions in the signalling supply market.
"We remain committed to the successful completion of the upgrade of this rail line and have now engaged in an updated procurement process and are making good process with a view to completing this complex project in as timely and cost effective a fashion as possible."