Donegal village accidently named 'crime black spot'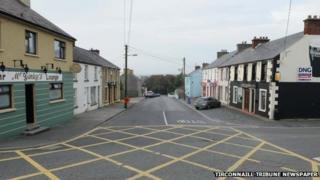 A quiet village in County Donegal has been accidentally named one of the worst areas for crime following a computer glitch.
The figures for Kerrykeel village were released as part of the crime statistics for the Republic of Ireland for the second quarter of 2013.
Kerrykeel has a population of around 400 people.
The glitch suggested an increase in sex offences, burglaries and fraud.
'Sleepy village'
The Central Statistics Office confirmed that Kerrykeel was mixed up with Kevin Street in Dublin.
A CSO spokesperson said: "Kerrykeel was mistakenly named as one of the worst crime black spots.
"The error was brought to our attention and rectified by lunchtime on Tuesday."
Kerrykeel Garda station is an appointed station with a sergeant and two gardai but out-of-hour calls are referred to Milford Garda station.
Editor of the Tirconnaill Tribune newspaper, John McAteer, said: "This shocked the people in Kerrykeel, which is a sleepy village.
"This is a very quiet and beautiful place and the mistake has become the talk in local shops and pubs.
"It's amazing how quickly stories can spread nowadays and it was even being reported nationally.
"I'm sure the issue won't lie around the neck of Kerrykeel for long. It's funny."