Derry city walls rape trial: 'I never forced her'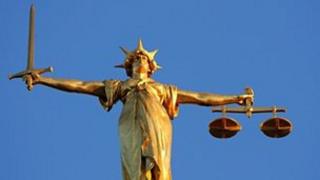 A 22-year-old man accused of raping a woman on Londonderry city walls last year, has told his trial that the woman consented to all sexual contact.
Jamie Curry, an unemployed barman from Goshaden Road in Derry, denies the charge and a further charge of touching the woman in a sexual manner.
The alleged incident happened in the early hours of 17 February 2012.
The defendant said he had met the woman in a city centre nightclub.
He said he and the complainant danced and chatted before he unbuttoned his shirt on the dance floor and then swung it over his head.
He added that the woman was bubbly and energetic and that she was out celebrating her 20th birthday.
He said he and the complainant left the nightclub together.
The court heard that they walked along Union Hall Place, at times arm in arm, and kissed before they walked on to the walls.
Mr Curry said he later offered the complainant a lift home in a taxi but she refused. She walked further along the walls and he walked to The Diamond area.
He denied taking advantage of a drunk woman saying the complainant was "tipsy but not drunk".
"I never forced her to do anything that night that she didn't want to do," Mr Curry told the jury.
The trial continues.