Belfast school gets GCSE geography results re-mark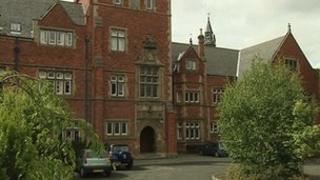 A Belfast grammar school has sent all its GCSE geography results back to an English exam board to be re-marked, the BBC has learned.
It is understood Methodist College, on Malone Road, is unhappy with the marks awarded for coursework in this year's exams set by the AQA.
It is thought many grades of the grades were lower than expected.
AQA has confirmed it is reviewing the school's results.
In a statement, the principal of Methodist College said it had "challenged the moderation of the coursework element" of this year's GCSE geography.
"This is being dealt with by the exams board AQA in line with the normal appeals system," the statement added.
An AQA spokesperson said it was important that schools and colleges had confidence in the results that they issued.
"If a college is concerned about the marks they have received for their students, they can request a review through the 'enquiries about results' services we offer," it added.
"I can confirm that we are currently undertaking a review of the results for GCSE geography coursework for the Methodist College, Belfast."