Police review of military killings 'grossly insensitive'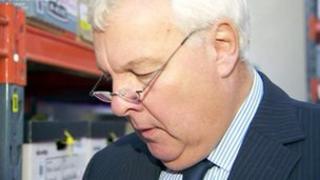 A human rights group in Londonderry has said it is "arrogant" and "grossly insensitive" for the police to review 13 military killings.
The review follows a critical report into the Historical Enquiries Team.
PSNI Chief Constable Matt Baggott told Stormont's justice committee he wanted to see if any evidential opportunities had been missed when soldiers had been interviewed under caution.
The Pat Finucane Centre said the re-examination will "hurt families".
Paul O'Connor from the Pat Finucane Centre said: "They have been told by Amnesty International and ourselves that families would not find this acceptable.
"The major problem with the HET is the lack of independence within the process. There is something very broken.
"A lot of families would say that the PSNI or the RUC didn't do their job the first time so why should they be allowed to do it again?
Inconsistent
"To now involve the PSNI is insensitive. This would be like asking the Catholic Church to investigate abuse itself. It's unacceptable. This is a disaster."
The review into the HET was carried out by HM Inspectorate of Constabulary.
It said their approach was inconsistent and had serious shortcomings.
Cases where the state was involved in deaths were investigated with "less rigour" than others, the police watchdog found.
The report led to pressure on the head of the HET, Dave Cox, who will step down from his post on 28 September.
Emmet McConomy's 11-year-old brother Stephen was killed by a soldier in Derry in 1982.
"Our family has never received a proper and thorough police investigation," said Mr McConomy.
"From a family's point of view we don't really believe that the police are going to do a thorough job now.
'Independent'
"When we met the police in 1992 the family had met senior detectives and they were very dismissive of the family.
"We've had no confirmation from the PSNI and no contact from them for a number of years. We don't want them involved.
"There must be a completely independent body to examine these killings."
A PSNI spokesperson said: "The PSNI, cooperating with and fully accountable to the NI Policing Board, are taking forward the recommendations of the HMIC Report.
"This is an informative review to assess if any evidential opportunities have been lost and to inform deliberations as to the future direction of the HET.
"The chief constable understands the concerns of families.
"Work on taking forward the HET is at a preliminary stage."