Londonderry dig: 13 skeletons found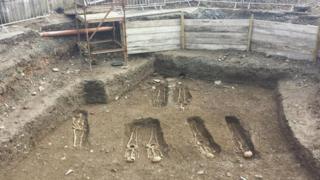 A total of 13 skeletons have been found during an archaeological dig within the city walls in Londonderry.
The first set of remains were unearthed at an archaeological dig at Bishop Street car park, near St Augustine's cemetery on Friday.
It has been suggested that the skeletons may have been there since the 17th Century.
Lead archaeologist Emily Murray said: "We were always expecting more.
"We have only excavated seven skeletons so far but 13 have been found. There could be more.
"We found feet bones that are quite small."
Researchers at the site said that the depth of soil is not an indication of age.
Derry came under siege between 1688 and 1689.
Emily Murray added: "Traditionally in a Christian burial you are orientated east to west. Priests or clergy men were buried the other way, so we could have a bishop here."
Another archaeologist is due to examine the bones at Queen's University Belfast.