Man charged with rape on Derry's city walls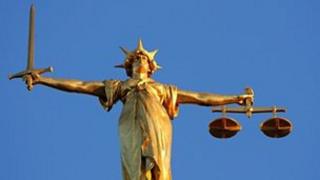 A 22-year-old man has gone on trial at Londonderry Crown Court charged with raping a woman on the city walls.
Jamie Curry, from Goshaden Road in Derry, denies raping the woman between 16 February and 19 February 2012.
The defendant denies further charges of attempting to rape the woman.
Prosecuting counsel said the complainant had not consented to the sexual activity.
The jury of seven men and five women were told that the issue of consent was primary in the case.
In his police interview, the defendant said that sexual contact had occurred but with the woman's consent.
The prosecution barrister said the complainant was seen walking past the Bishop Street courthouse, shortly after the alleged sexual assaults, by a man who then alerted the police.
Crime scene investigators went to the location on the walls of the alleged assaults and they found the woman's underwear, her driving licence, a door key and a £20 note.
The court heard that when the complainant was medically examined she was found to have abrasions on various parts of her body and dried mud on her legs.
The trial is expected to last seven days.