Former school in Derry 'a danger trap'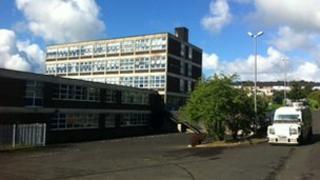 Residents in Londonderry have called for a former school in Creggan to be demolished as it has become "a magnet for anti-social behaviour".
The former St Peter's High School was damaged in a fire on 4 September.
NI Fire and Rescue Service assistant group commander Mark Smith said he believed the blaze may have been started intentionally.
People living near the building have said young people are gathering on the school grounds.
Residents gathered outside the school gates on Thursday in calling for the building to be demolished.
People who live in nearby flats and houses said children as young as six and seven are gathering inside the school gates.
'Danger trap'
One resident said: "It's a playground for young people. It needs knocked down and something better needs to replace it.
"Windows have been boarded up by the emergency services but young people are putting windows on the other side of the building through at the same time.
"It's a danger trap."
SDLP Councillor Jim Clifford said: "People have been vandalising and taking copper from this building on a regular basis.
"It's a magnet for anti-social behaviour and it's the people in the area that's suffering."
Sinn Fein councillor Kevin Campbell said: "Plans have been submitted for over 100 new homes in a social housing project on the site and it will be some way off before any plans become a reality."