£22m Londonderry to Coleraine rail plans delayed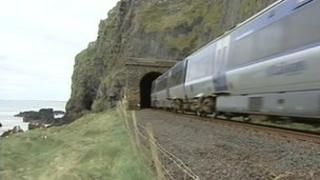 The second stage of a £22m upgrade for the Londonderry to Coleraine railway line has been delayed for a further year.
Translink said it was having difficulty finding the right supplier for signalling equipment.
Plans to create a loop to enable trains to pass each other on the track will not now be completed until 2016.
The rail line reopened in April 2013 and is currently being used.
The overall upgrade cost £75m and Northern Ireland Railways said it represented "a significant investment in the line for the future".
'Frustrated'
Phase two of the railway involves major re-signalling between Derry and Coleraine and the introduction of a passing loop between Derry and Bellarena.
The transport minister, Danny Kennedy, said he was very disappointed at the news.
"I've asked Translink to make this an absolute priority," he said.
"I am very disappointed that this £22m project will now be delayed beyond the end of 2015.
"I fully acknowledge that with schemes of this kind it is very important to ensure the procurement process is carried out appropriately. Whilst I am frustrated at the delay, I have asked Translink to make this an absolute priority going forward."
A Translink spokesperson said: "We remain committed to the successful completion of the upgrade of this rail line and have now engaged in an updated procurement process and are making good progress with a view to completing this complex project in as timely and cost effective a fashion as possible."
SDLP MLA John Dallat said: "This is a set back and we are used to them.
"We need to make sure that, as quickly as possible, we get a proper inter-city service between Belfast and Derry, servicing the towns and villages in between."