'Find my uncle's Shanghai grave' woman asks David Cameron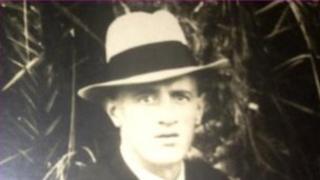 A woman whose uncle was shot dead by the Japanese 75 years ago has written to Prime Minister David Cameron asking for help finding his grave.
Patrick McGowan from Londonderry was just 25 years old when he was killed. He was a British soldier serving in Shanghai at the time.
His death caused a political outcry and was raised in the House of Commons.
This was 1937. Britain was not at war with Japan, yet the Japanese shot down British soldiers.
The grave where he was buried with full military honours in Shanghai has now disappeared.
His niece Sarah Moran received a letter to say that a multi-storey car park had been built in its place.
"He was on duty in Shanghai and just 10 minutes before he was due to go off duty, a Japanese aircraft on return from a bombing raid in China, opened fire on the soldiers. He was shot and injured and died later," she said.
"My mother and father called him 'wee Paddy' and I grew up hearing about him. They were so close that Paddy was going to live with them when he returned."
For Sarah, finding out about her lost uncle took on greater importance as she grew older.
She treasures the beautiful tea set from Hong Kong sent by Paddy to his mother, her grandmother, nearly 80 years ago.
It was important to honour his memory, she said.
"I always wanted to know where he had been buried. And I wrote and found that the cemetery where he had been buried was closed in 1951.
"The letter said: 'Your uncle's grave no longer exists. There is a multi-storey car park on top of it.' That really angered me. All those dignitaries were at his funeral and now this. I would like to find out where he is buried now."
She has no illusions that buildings will be torn down for her uncle, she just wants to know where he is.
"It is not right that he should be buried out there with not even a name on his grave," she said.
Now, Sarah Moran is hoping that David Cameron will help her find the last resting place of soldier Paddy McGowan and ease the family's grief.