Foyle Pride celebrates 20 years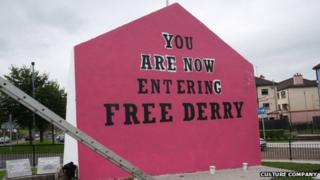 Organisers of the 2013 Foyle Pride festival in Londonderry have said people can expect the biggest celebration yet as they celebrate 20 years in existence.
The parade left the Waterside Train Station at 14:00 BST on Saturday.
The first festival took place in 1993, 11 years after homosexual acts were decriminalised in Northern Ireland.
Amy Lamé opened the festival on Tuesday in An Cultúrlann, Londonderry.
Free Derry corner has been painted pink and the Guildhall clock has also been turned pink.
The parade is making its way over the Craigavon bridge, up Carlilse Road, past The Diamond and down Shipquay Street to culminate in an afternoon of music and entertainment at Guildhall Square.
Twenty years of the festival will be celebrated on Saturday night in the surroundings of St Columb's Hall with a live performance from SOAK.
Foyle Pride Chairperson Joe Carlin said: "This is going to be a real rainbow within the City of Culture.
"The six day festival was a massive family filled event and Saturday is going to be a fantastic ending.
"Amy Lamé is a very colourful character and we are excited to have her here.
"Painting the Free Derry Corner is iconic. We have people from everywhere enjoying the city and that is the reason why we are on the street.
"There is certainly a lot more glitter being used for this year's festival."