Derry Walled City Tattoo 'to attract 15,000'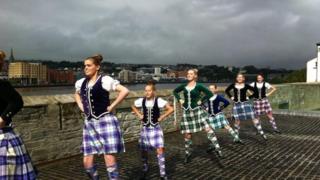 Organisers have said around 15,000 people are expected to arrive in Londonderry for next week's Walled City Tattoo event.
The Walled City Tattoo will showcase both international and local talent, including Top Secret from Switzerland performing their 90-minute production.
The parade ground will be based in the former Ebrington barracks between 28 and 31 August.
A 500-strong cast will include performers from across the world.
Organisers say the UK City of Culture event will combine the pomp, ceremony and grandeur of traditional tattoo events with a special Derry-Londonderry twist.
'Cross-community experience'
Director James Kee said the tattoo event is based on the rich tapestry of cultures from all people and places within the city and beyond.
"What's the point of having a show if everyone can't be involved?" said Mr Kee.
"This is going to be massive and you can see the enthusiasm and momentum which is flowing now throughout the city.
"Looking back to the launch, I wasn't even sure how successful things were going to be.
"Northern Ireland is ready to host its own tattoo style event and the UK City of Culture 2013 is the ideal platform for us to stage the inaugural Walled City Tattoo.
"Our 15,000-strong audience won't be disappointed when they see the performances and world class routines.
"We are bringing together an unforgettable cast of musicians, dancers and actors to entertain the crowds in a production that will be unlike anything ever seen in Northern Ireland."
John Rankin from the William King Memorial Band said: "A lot of hard work has been going into this in the past few months.
"We have been practising three nights a week and this is a sound we have never heard before.
"We have been playing with St Josephs brass band which is a fantastic cross-community experience.
"We just want to play music."
'Fitting testimony'
East Londonderry MP Gregory Campbell welcomed some of the performers to the Houses of Parliament at Westminster in July, as they gave Londoners, MPs and parliamentarians a taste of what will be happening at Ebrington Square.
Mr Campbell said: "The fact that Londonderry is now having one of the most prestigious events in its calendar year promoted in the heart of London is a fitting testimony to the growing stature of the cultural year.
"Thousands have already booked to see what promises to be a spectacular tattoo in a stunning setting overlooking the River Foyle," said Mr Campbell.
The line-up will feature The Crossed-Swords Pipe Band, Afrikan Warriors, Sontas, various mass brass and melody flute bands and highland and Irish dancers.
One hundred pipers and drummers from counties Tyrone, Donegal, Fermanagh, Londonderry, will perform as well as pipe bands from Newcastle upon Tyne and Germany.