Belfast man jailed for Derry couple assault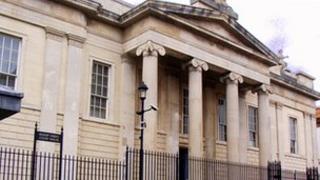 A Belfast man has been jailed for two years and five months for assaulting a couple in their sixties last year in Londonderry.
Twenty-year-old Jonathon McCusker, from Blackstaff Mews, was described as a "cowardly bully" at Londonderry Crown Court.
McCusker pleaded guilty to assaulting the couple and their son-in-law outside their Greenhaw Avenue home in Londonderry.
The incident happened on 20 June 2011.
Judge Philip Babington said the assault took place at 17:00 BST on that day after a neighbour of the couple had asked a group of youths to stop riding a scooter on the back lane behind the couple's home.
The male victim was punched to the ground by McCusker who then kicked the victim on the head and body, fracturing several of his ribs.
The victim's wife tried to help her husband and McCusker threw several punches at her and pushed her to the ground.
Judge Babington said McCusker then ran off but returned to the scene 15 minutes later.
Threats
The injured couple's son-in-law then arrived and he confronted McCusker who was now carrying a knife.
McCusker ran away for a second time and again returned, this time with a lump of wood in his hand making threats.
Judge Babington said the police then arrived at the scene and McCusker was arrested.
During his interviews he denied assaulting the couple.
The court heard that McCusker had 32 previous convictions, among them convictions for assault and for carrying offensive weapons.
On the day he attacked the couple, McCusker was already under a suspended jail sentence for a previous offence.
Judge Babington said the accused had started abusing drugs and alcohol from the age of 12.
Since leaving home at the age of 15, the court heard he had never had a job.
The court was also told that McCusker had been aggressive towards his care workers when in residential care.
Judge Babington said McCusker has been assessed as having a high likelihood of re-offending and had a limited victim understanding.
The judge said McCusker was one of several people involved in the incident but he played a prominent role in attacking the couple.
Judge Babington described McCusker's behaviour as "disgraceful" and said he had attacked a man who had come to the assistance of his neighbour.
He ordered that McCusker be placed on licence for one year and five months after his prison term.