Castlerock railway crossing offenders to be prosecuted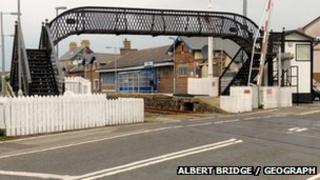 Translink have said 16 motorists who tried to "beat the barrier" at the railway crossing in Castlerock, County Londonderry, are to be prosecuted.
Problems have arisen since the Derry to Coleraine line reopened in March, according to Translink.
The company said more than 100 people have been seen trespassing on rail lines in Northern Ireland since the beginning of June.
"Someone will die," said Translink.
Mal McGreevy, general manager for rail services at Translink, said: "Crossings are used as a warning. There have been too many incidents where drivers have tried to beat the barrier.
"It is a traffic offence to drive through the barrier when the lights are flashing red.
"We have had a number of incidents where vehicles have collided with barriers too.
'Fatal consequences'
"Castlerock has been unacceptably higher than anywhere else on the network in the last several months."
Translink have re-opened a campaign to emphasise safety measures that must be taken around railway crossings.
A total of 76 people have been prosecuted in Northern Ireland within the past year for trespassing or crossing misuse, according to Translink.
Mr McGreevy added: "Drivers have been used with the barriers being up for a while when the line was closed but now that it's open, people must be aware of the fatal consequences.
"Railways will be safe if they are respected and properly used."