Woman charged over Limavady music festival drugs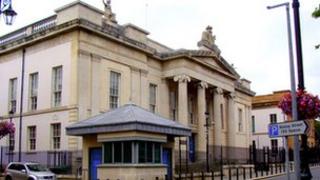 A mother-of-two has appeared in court following the discovery of drugs at a music festival in Limavady, County Londonderry on Saturday.
Sarah Gates, 25, from Meadowlands, Downpatrick, appeared at Londonderry Magistrates Court on Monday.
She is charged with having LSD, ecstasy, cannabis and diazepam. She is also charged with supplying ecstasy and intent to supply drugs.
The defendant was freed on bail and is to be electronically tagged.
A police officer told District Judge Barney McElholm that he could connect the defendant to all of the charges.
Opposing bail, he said the defendant came to the notice of security staff because of her suspicious behaviour at the music festival.
'Unusual case'
Following a search of her belongings, police found 200 ecstasy tablets, 200 doses of LSD, 150 diazepam tablets and four grams of herbal cannabis.
The officer said the defendant was arrested and taken to Limavady police station.
During questioning she admitted bringing the drugs to the festival with the intention of supplying them, the court heard.
The police witness said the defendant told him that she started dealing in drugs in Belfast last February to pay off a £200 fine which had been imposed on her for driving without insurance.
He said because of the fine she had got into debt and she admitted that she then made the conscious decision to start drug dealing.
The officer said the defendant made a "full and frank admission" to all of the charges before the court.
He said she was not the usual type of person normally involved in drugs dealing.
The police officer told the district judge that he believed the defendant would re-offend if released on bail and would re-engage in supplying drugs in order to recoup her losses.
Applying for bail, a defence solicitor said it was a "somewhat unusual case".
He said the defendant has no previous similar convictions and she only got involved in supplying drugs to pay off a motoring fine.
Mr Brewster said it was an "extremely foolish and amateurish operation" by the defendant who had paid £1,000 for the drugs.
He said he hoped her drug dealing days had been nipped in the bud.
The district judge released the defendant on her own bail of £1,000 to appear at Limavady court in October.
As part of her bail conditions, the defendant is banned from any music festivals and from having any non prescribed drugs.
She is also to be electronically tagged and she must adhere to a 21:00 BST to 08:00 BST curfew.