Barrister to complain after police stop and search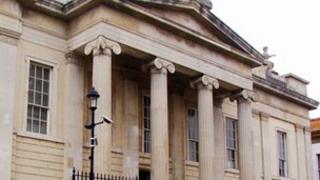 A barrister has told Londonderry Magistrates' Court that he is to make a formal complaint after he was stopped and searched by police on Thursday under terrorist legislation.
Plunkett Nugent told the court that he will be reporting the search to the Bar Council.
The incident happened at Victoria Road close to the Craigavon Bridge in the city.
Mr Nugent said the search was the reason why he was late for court.
Mr Nugent represents 20-year-old Nathan Hastings from Strabowen Drive in Strathfoyle, who is in custody charged with possessing an improvised explosive device, explosives, a firearm and ammunition after police searched a car at Northland Road in Derry in April.
The barrister told district judge Barney McElholm that he believed he was deliberately stopped by police because of the nature of the case.
He said two officers stopped him and that one officer said his car was to be searched for transmitters and ammunition.
Mr McElholm said while he was not in possession of the full facts he was concerned if police stopped lawyers on their way to court.
"An independent legal profession is one of the corner-stones of democracy and nothing should be done to obstruct that," said Mr McElholm.
Mr Nugent said the officers told him he was being stopped and searched under section 24 of the justice and security act which has already been declared illegal by the court of appeal.