Historic Apprentice Boys' flag missing in Londonderry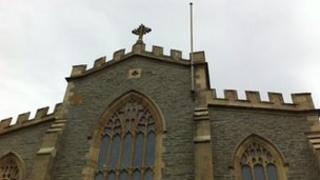 An historic Apprentice Boys' flag has been taken from the front of St Columb's Cathedral in Londonderry.
The Crimson flag was hoisted in the early 1700s and went missing on Monday.
The red flag usually flies on a post at the east of the cathedral that looks on to the main gates.
Police said they were looking into what happened. Dean of the Cathedral Reverend William Morton said CCTV should be able to pick up who was responsible.
"I noticed that the flag was gone in the early hours of Tuesday morning.
"It is extremely disappointing and regrettable for such an important flag to go missing," he said.
"The Relief of Derry symphony was in the cathedral last week and the place was packed full of musicians. This is the atmosphere we want.
"This will have to be replaced and that costs money. The cathedral is a place of openness and we continue to go ahead with that positive attitude."
The cathedral itself was not broken into and there was no criminal damage.