Londonderry Memorial Hall paint attack 'futile'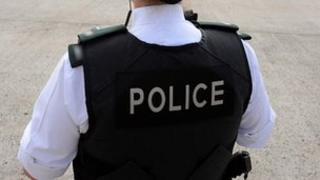 An attack on the Apprentice Boys Memorial Hall in Londonderry has been described as 'futile' following a spate of paint throwing on Tuesday night.
Police said paint was thrown at the building on Magazine Street by youths at 19:00 BST.
Sinn Féin Foyle MLA Raymond McCartney said the attack "will achieve nothing".
"The message has to go out loud and clear to whoever was involved that it's totally wrong," he said.
"The city is buzzing this week with positivity with tens of thousands of visitors and Derry is being put on the map as the cultural capital of Ireland.
"A very small minority cannot be allowed to undermine or damage the collective efforts of the people of Derry as we try to move this city forward."
Police are appealing for information.