Burning pallets placed on road in Galliagh, Derry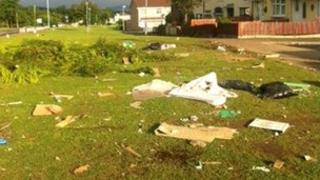 Police were called to the Galliagh area of Londonderry on Tuesday night after pallets were set on fire.
A number of people placed the burning pallets across the road at Collon Lane, near Glengalliagh Road, police said.
Officers arrived in the area shortly after 22:00 BST and remained for some time.
Community representatives were also in the area liaising with the police. A number of pallets were removed and a can of petrol was also seized.