Maiden City festival hailed a 'major success'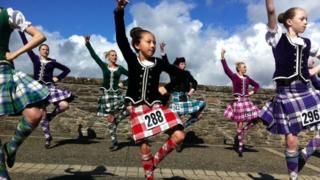 Around 20,000 people are expected to descend on Londonderry on Saturday for the Apprentice Boys Parade, the finale of the week long Maiden City festival.
The festival opened on 3 August with a bluegrass and folk music weekend where over a dozen bands played over two days.
Derry came under siege between 1688 and 1689.
The siege was dramatised in a five-part series at St Columb's cathedral.
The 10th Maiden City Scottish highland dance competition was held on Wednesday at the Memorial Hall.
The premiere performance by Shaun Davey's Relief of Derry symphony was brought together by flute bands of the city with classical and folk artists on Thursday night.
Fantastic week
Performances were held at St Columb's cathedral with the Churchill, Hamilton and William King Memorial flute bands, along with the classical Festive Flutes and Marcas Ó Murchu folk flute, with the voice of Doreen Curran.
Maiden City festival organiser, David Hoey said: "It's been a fantastic week of events.
"We've had some great events around the walls which were brought to a powerful conclusion on Wednesday night. Everyone was moved and it was simply outstanding.
"The relief of Derry symphony was another magical highlight. This city has done something that it's never done before.
"People have been comfortable and people from all over the city got involved, especially at the tea dance.
"The feedback has been based around a great family atmosphere and a lot of people are asking what to expect in 2014. The entire festival has without doubt been a major success.
"It all ends with the pageant, which is going to be an exciting finale."
As the final cannon sounds on Saturday, the main parade of the Apprentice Boys will cross the Craigavon Bridge; a highlight of the festival week.
The commemorative events included the traditional walking of the walls, remembrance at the cenotaph, the service of thanksgiving, pageant and the largest parade of the year for Apprentice Boys from across the UK and overseas.