Greencastle fort damaged in fire, police say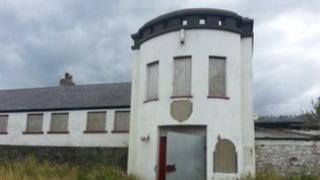 Part of the old fort site at Greencastle, County Donegal, has been extensively damaged in a fire.
Police said they received a report of a major fire around 22:00 BST on Monday.
The fire service attended the incident and the blaze was brought under control at 01:00 BST on Tuesday.
Police said: "Extensive structural damage has been caused in the overnight fire and a major investigation is underway."
The Martello tower was not affected in the fire.
It is believed that the roof of a hotel and restaurant on site caved in.
Eddie Kelly, a local shop owner said the area is well known throughout County Donegal.
"The first fire engine went through the village around 22:30.
"At first it was difficult to see what was actually on fire. We weren't sure whether it was the trees or bushes on fire at the fort site. Someone actually thought it was nearby apartments.
"The damage is all at the front which was once known as the back. There used to be a lovely glass front where people could sit and have a meal. It's a shame to see it in this condition.
"Reaction in the town is of great sadness. I had some of my children's christenings there so it's really sad.
"There was quite a bit of woodwork inside so that explains perhaps why the blaze was so big."
It's understood the site has been derelict for around 10 years.