Limavady building companies to make 30 redundant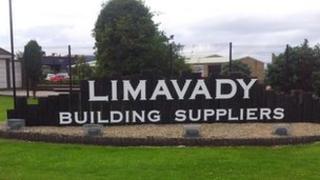 There are to be 30 redundancies at a building company in Limavady, County Londonderry, an administration group has confirmed.
Keenan CF were appointed joint administrators of McCloskey and O'Kane and its subsidiary, Limavady Building Suppliers Ltd.
The administrator took over the companies on Friday.
A Keenan CF spokesperson said: "Due to severe cash restraints, we are not in a position to continue to trade."
He added: "Therefore it is with regret that we have had to make 30 members of staff redundant today.
"We continue to work with the remaining staff in order to realise the assets of the companies and will continue to review the ongoing employment levels of the companies."
The mayor of Limavady, Gerry Mullan, has expressed concern.
"This was the last beacon of hope for Limavady ever since Seagate closed down.
"This is a massive dark cloud for Limavady.
"People are clinging on by their fingernails here."
According to the company website, Limavady Building Suppliers have been in business for 30 years. They describe themselves as suppliers of building materials to the commercial construction industry.
They provide building materials and supplies, hardware and DIY materials and cement paving and patio supplies among other services.
The website states the company offers services across Northern Ireland but mainly supplies to the Limavady, Coleraine and Derry areas.
The deputy mayor of Limavady, DUP councillor James McCorkell, said: "The first concern must be with those employed with the companies.
"Like so many others in recent years, they will now be facing a very uncertain future."
In 2008, the town's biggest employer, Seagate, closed with a loss of over 1,000 jobs.