Concern at cost of keeping Benone beach 'blue flag clean'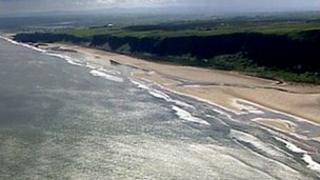 Litter louts could cost one of Northern Ireland's top beaches its blue flag status, a council has warned.
There is concern at the cost of cleaning Benone beach in County Londonderry to blue flag standard.
The beach, which has won a record 23 consecutive blue flags, attracts over 300,000 tourists every summer, according to Limavady council.
However, around £3,000 a month is spent on cleaning the beach every summer.
Some of the items left behind on the beach have included disposable barbecues, disposable nappies and glass bottles.
Richard Gillen, from Limavady council said there is concern at the cost of cleaning the beach.
"It's really encouraging to see Northern Ireland's beaches being enjoyed during the period of fine weather, however, what is disappointing is how some visitors treat our natural resources.
"To keep our beaches in proper condition takes a considerable effort and resource.
"It's disheartening when the behaviour of a small percentage of visitors reduces the quality of beach experience for everyone else and raises questions about the value of putting a site forward for a blue flag award.
"Limavady Borough Council supports the Leave No Trace campaign and would ask visitors to do likewise leaving our beaches in a condition that they would expect to find them."
Tidy Northern Ireland are to launch a major report soon, mapping out the extent of litter on Northern Ireland's beaches.
During the last year almost £30m was spent on street cleaning by councils in Northern Ireland.
Susan Cramer from the Department of Environment Marine Policy Unit said: "We need to change our attitude and behaviour towards littering.
"This will be done through education, adequate provision of bins, fining offenders and collecting data on the extent of the problem.
"The strategy is part of the Department's work to create prosperity and well-being through environment and heritage excellence, and is linked to other measures like the waste management strategy and clean neighbourhoods legislation."