Broighter gold will return to Limavady, says council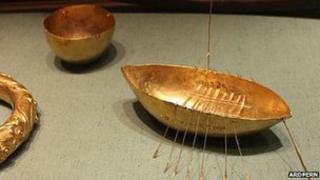 It has been confirmed that a hoard of iron age treasure will be making a temporary return to the County Londonderry town where it was found.
The Broighter hoard is a collection of gold artefacts found by Tom Nicholl on farmland near Limavady in the 19th Century.
Limavady Borough Council told the BBC on Friday that the items will visit the town before the end of 2013.
The treasures include a golden boat, torc and a bowl.
The golden collection is currently held by the National Museum of Ireland in Dublin but will now come to Limavady Borough Council for display.
SDLP Mayor of Limavady Gerry Mullan said: "I am just delighted. This is extremely positive for Limavady.
"A lot of credit has to go to the officers at the council who has been putting in the hard work.
"It has always been said that it was likely to return but now we can say that something we are proud of is definitely coming home.
"This will be a fantastic tourist attraction for the area."
A Limavady Borough Council spokesperson said: "It is not clear at this stage what date the gold will return to its home town."