Unused e-car charging points in Londonderry 'a concern'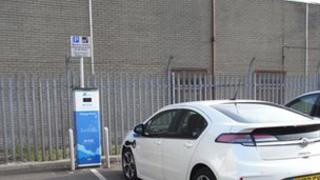 Electric car charging points have been used a total of 23 times since they were installed in Londonderry two years ago.
There are seven public charging points in Derry city centre.
The Department for Regional Development has spent £2.32m on its e-car charging network in Northern Ireland, with charging points in Derry costing £140,000.
Deputy mayor Gary Middleton said: "This is a concern."
He said the figures made it "difficult to argue that the scheme was worthwhile."
"These are car parking spaces that could be filled very quickly if they weren't specifically for electric cars."
Electric charging points in Derry are at Victoria Market, Bishop Street, Railway Yard, Strand Road, Carlisle Road, The Diamond area and Templemore Leisure Centre.
Motoring journalist, Jim McCauley said electric vehicles are simply not on the road.
"I did drive an electric car for a couple of weeks but I didn't use the public charging points at all.
"The government installed the charge points, it might have been best to wait and see how the electric cars themselves caught on."
The department has previously said it is necessary to have the infrastructure in place to meet a demand that will grow slowly as the idea of electric cars take hold.
Deputy chair of the Committee for the Department of Regional Development, Sean Lynch, said: "The underuse is a problem.
"I have yet to see anyone use the e-car spaces near me in Lisnaskee. These are a waste of space at times and sometimes encourage people to park illegally.
"I wouldn't support my department if they suggested taking this development further.
"A review of the current charging points is needed."
Sinn Fein MLA Maeve McLaughlin tweeted "e-car spaces are not the best use of spaces especially in congested areas like the Diamond."