'No natural light' for Londonderry mortar bomb accused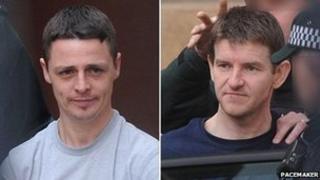 One of the men held in custody following the discovery of four mortar bombs in Londonderry this year "has not seen natural light for 130 days," Londonderry Magistrates Court has been told.
A defence solicitor made the comment in the case of 38-year-old Gary McDaid from Glenowen Park, Derry.
Mr McDaid is jointly charged together with 35-year-old Seamus McLaughlin.
They were arrested when police stopped a van in the Brandywell area in March.
Both men are charged with possessing four mortar bombs and an improvised pipe bomb on the Letterkenny Road, Derry.
Mr McDaid and Mr McLaughlin are also charged with conspiring to cause an explosion and with possessing a van for use in an act of terrorism.
The judge was told by the defence solicitor that a psychologist's report had been obtained in relation to Mr McDaid's post traumatic stress disorder.
The solicitor said he also obtained a medical report in relation to Mr McDaid's glaucomic condition, which, he said, was "due to the fact Mr McDaid hasn't seen natural light for 130 days."
The case was adjourned until 5 August when the defence solicitor said he would make a bail application on behalf of Mr McDaid.
Both men were remanded in continuing custody.