Green light for street drinking at Londonderry fleadh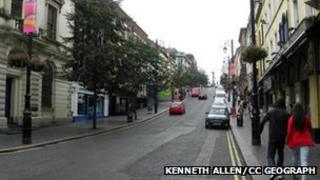 Street drinking has been approved for parts of Londonderry city centre during the Fleadh Cheoil na hÉireann festival.
Police have said Lower Shipquay Street, Bank Place, Waterloo Street and Custom House Street have all been granted special licences within what are current alcohol free zones.
The festival of traditional Irish music will be held across Derry between 12 and 18 August.
"We uphold the law, we don't write it," Chief Inspector Jon Burrows said.
Ensure safety
"Licensees applied to the court for an occasional licence for these streets. Up to 1am each night, by-laws will not apply to those areas.
"No eyes will be turned. All offences will be looked at closely around people's behaviour and licensing laws," said Mr Burrows.
"Within these alcohol areas, there will be a substantial number of stewards, you can't bring drink in and there will be no glass allowed. Everything will be monitored to ensure safety and make sure people are keeping themselves within the law."
Fleadh organisers have said that up to 300,000 people are expected in the city for the world's largest Irish traditional music event in August.
Chairperson of the Fleadh, Evelyn Ni Doherty said: "Myself, the legal team and the police have been working closely.
"This is the best solution and we will have a friendly and family atmosphere. The current by-laws would be problematic when you consider the volume of people expected in the city.
"We have come to a compromise and I don't think we could have managed without this change. People were allowed to drink during the fleadh in Cavan and it worked."
A spokesperson for Derry City Council said: "These areas will be managed by the licensees and the event organisers. The current by-laws in respect of on-street drinking remain in place across the city but will not have effect in the areas covered by the granting of the occasional liquor licences."
Police will be meeting with all of the licensees involved next week to discuss arrangements and the wider licencing enforcement and alcohol management plans.