Evermore to create 200 jobs building green energy plant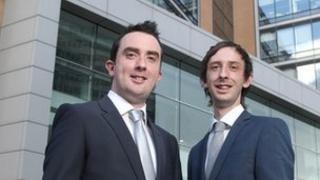 A green energy firm has said it will create 200 jobs during the construction of a new power plant in Londonderry.
Evermore Renewable Energy said they have secured more than £80m in funding for the wood-fuelled power plant that will be built at Londonderry Port and Harbour, Lisahally.
The plant is to open during summer 2015.
Co-founder Ciaran Devine, said the firm was making a "serious commitment" to the Northern Ireland energy market.
Supply 25,000 homes
"Working with the best partners in technology, fuel supply and financing we hope to show that Northern Ireland is a great place to do business so that further inward investment will follow," he said.
"We've been developing the project over the last four years and we should be starting work in the next six to eight weeks.
"One of our key focuses will be to employ local people and it's likely there will be another 20 spin-off jobs. The jobs will mainly be management roles and for operational staff."
Business Secretary Vince Cable welcomed the funding of the project by the Green Investment Bank.
"It's very important for Northern Ireland and it's a good project.
"It's going to be environmentally friendly, using wood that would usually go to landfill.
"We're confident that the wood that comes from demolition projects will now be burned productively and reduce carbon emissions."
The company hopes to produce enough electricity to supply more than 25,000 homes.
The energy firm said they are the first of its kind on the island of Ireland and also the first project to be developed and funded by Evermore.
Northern Ireland's Energy Minister, Arlene Foster said: "The Evermore plant will make an important contribution towards Northern Ireland's 2020 renewable energy targets.
"It is a wonderful example of local, national and international co-operation and I am particularly pleased to note that this is the first Northern Ireland project to secure funding from the Green Investment Bank."