Unionist 'concern' over Castlederg IRA commemoration parade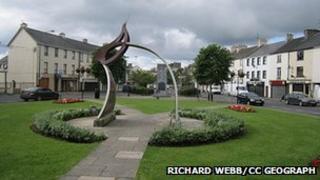 The DUP has said Castlederg residents are concerned over Sinn Féin's plans to commemorate two IRA members killed while transporting a bomb in 1975.
DUP MP Jeffrey Donaldson said the party has been approached by a number of local people ahead of the Tyrone Volunteers Day event in August.
He said he felt Sinn Féin had not done enough to take account of local sensitivities.
Sinn Féin MLA Declan McAleer said it was "not a contentious parade".
"It emanates from a nationalist area of the town, it will go through the Diamond which is a shared space, and the organisers are sensitive to that," Mr McAleer said.
'Challenge'
"In Castlederg there are almost 20 parades form the broad unionist community every year, many of which go through the town centre, and none of which have been objected to by nationalists.
"So I think there's a great challenge here for unionists to accept nationalists on an equal basis.
"Everyone has a right to honour their dead, and we're always up for dialogue on any of these matters," he added.
One resident in a loyalist estate in Castlederg - who did not want to be identified - said he believed the parade should not be allowed.
"Loyalist parades are not allowed to march in certain areas of Belfast and there are protests going on all over the place.
'IRA atrocities'
"There were a lot of people killed in Castlederg, and it's going to cause great bother between the communities here," he said.
But another Castlederg resident said did not have a problem with the parade.
"I'm a Protestant but I don't care, my best friends are Catholic.
"I don't mind parades - I'd go to any parade."
Mr Donaldson said Castlederg was still living with the legacy of the Troubles.
"It was the location of a very high number of IRA atrocities over the years, and that legacy lives on.
'Double standards'
"When you consider it is the stance of Sinn Féin that Orangemen shouldn't be walking on the Crumlin Road, which is a mixed area, then why are they proceeding with a parade which commemorates the IRA in a town where many people died at the hands of the IRA?
"Of course we have to have equality but we also have to have sensitivity.
"There are people in Castlederg who feel there are double standards operating," the DUP MP said.