Londonderry mortars: Suspect's mother fears for his health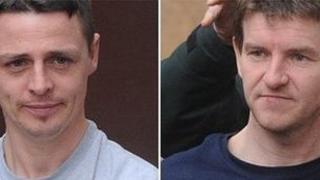 The mother of a man facing explosives charges has said she fears for his health in prison.
Gary McDaid, 37, of Glenowen Park in Londonderry, and 35-year-old Seamus McLaughlin, of Eastway Gardens in Creggan, are charged in connection with the discovery of four mortar bombs and a pipe bomb in the city in March.
They were arrested when police stopped a van in the Brandywell area.
The roof of the vehicle had been cut back to allow the mortars to be fired.
The police said that the likely target was a police barracks in Derry.
Gary McDaid's mother Ann said her son had been on a dirty protest since the authorities refused to move him to the republican wing of Maghaberry jail known as Roe House.
"Gary asked to be moved to Roe House for his own safety because that's the only place where he can be safe," she said.
"The prison has refused to move him because they say his life is in danger from people in Roe House.
"I've written to ask why they think that but they haven't got back to me.
Approach
"My son hasn't had any exercise or been outside for almost four months. His human rights are not being looked after."
The Department of Justice said Mr McDaid did not meet the full criteria for admission to what it called separated landings in the jail. It also denied claims that his health was not being looked after.
A spokesperson said: "The prison service is committed to housing prisoners in a safe and secure environment and are providing Mr McDaid with the appropriate care and support in relation to his physical and mental well-being."
Last month, a solicitor for Gary McDaid told Londonderry Magistrate's Court that his client had been approached in prison and asked to turn 'supergrass'.
The solicitor said he had been asked on six occasions to plead guilty and become an assisting offender.
"My son hasn't been convicted of anything. He doesn't know anything and he's not in anything, but the police kept persisting," said Mrs McDaid.
"They told him they would give him money and set him up in business. He refused and told them to leave."
Sinn Fein MLA Raymond McCartney has met Gary McDaid in prison and said the authorities should move him to the republican wing.
Mr McCartney, who is a member of Stormont's justice committee said: "I've told the prison administration that there was no threat to this man's life until he was actively pursued by the PSNI.
"He's very vulnerable and isolated. The whole thing is clouded in controversy and the best way to progress this matter is to move him to Roe House."