Pavement Cafe Bill: Mixed reaction to 'street cafe' bill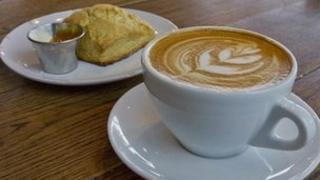 Plans to regulate street cafes, under which owners could be charged to place tables outside their businesses in Northern Ireland, have received a mixed reaction among traders in Londonderry.
The new law is being proposed by Social Development Minister Nelson McCausland, who introduced the Pavement Cafe Bill in the Stormont assembly on Monday.
Derry city centre manager Jim Roddy said it would promote a cafe culture.
But cafe owner Gerard Moyne said it would discourage traders.
'Poor for business'
Mr Moyne has recently opened his cafe in the city's Craft Village area.
He told BBC Radio Foyle: "I think personally that any act, however well reasoned, that inhibits business, is a poor act.
"What do they hope to gain out of this? Because I can obviously foresee that cafe owners will stop putting the service outside their front door and that will be poor for business overall."
However, Mr Roddy, who is chief executive of Derry's City Centre Initiative (CCI), said the new law was about "enabling, as opposed to inhibiting".
He said licensing legislation would "allow people to extend their trading out onto the street" and bring "more of the European feel around the city".
'Liability issues'
The city centre manager explained that at present, cafe owners "don't have the right to use land that is not theirs".
"In most public realms, the land would be owned by the Department of Regional Development's Roads Service and obviously there are liability issues," Mr Roddy said.
"At this moment in time, it's done with a nod and a wink," he added.
Declan Moore, who runs a cafe in Derry's Shipquay St, indicated that he would be prepared to sign up to a licensing scheme if it was kept to a "reasonable cost".
"I do have a problems in terms of higgledy-piggledy furniture being strewn around the streets," Mr Moore said.
He said if there was regulation, it could promote "uniformity".
The manager told BBC Radio Foyle he was pleased that the minister was recognising the benefits of cafe culture and said Derry city needed to embrace it.
'Council powers'
As he introduced the bill on Monday, Mr McCausland said: "The popularity of street cafes has been a growing trend across Northern Ireland and consequently I have listened to local stakeholders' appeals to put street cafes on a statutory footing.
"The licensing scheme which I am promoting will bring us into line with the rest of the UK and enable the controlled expansion of pavement cafes."
Under the new statutory licensing scheme, cafe, restaurant and bar owners would apply to their local council for permission to place customers' tables and chairs in public spaces.
Councils would be given the power to impose conditions on street cafes, and to suspend or revoke licences in certain circumstances.
To operate the scheme, local councils would be allowed to charge cafe owners what the Department of Social Development has described as "a reasonable fee".
The DSD statement said it expected that the draft legislation would "complete its assembly passage by the end of the year".