Pipe bomb found during Strabane security alert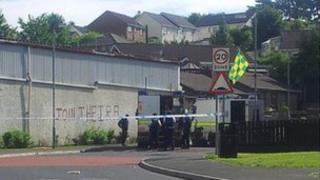 A pipe bomb has been found in a residential area of County Tyrone.
Army bomb disposal experts were called to examine the device after it was discovered in Springhill Park, Strabane, on Tuesday morning.
About 30 homes in the area were evacuated and many of the residents were given shelter in the nearby Springhill Community Centre.
A police spokesman said Springhill Park has reopened to traffic and residents have been allowed to return home.
Several elderly people and families with young children were among those who were forced to leave their houses before rush hour.
'Pensioners' bungalows'
Residents told BBC Radio Foyle that they woke to the news that a device had been found lying in the middle of the road.
One man said that local people tried their best to help evacuate a row of pensioners' bungalows close to the scene of the alert.
A community worker, who helped to open the Springhill facility for residents, said she did not understand the mentality of those who carried out the attack.
"There's no explanation as to why people would do such a thing, outside pensioners' bungalows of all places.
"At that time of the morning there were a lot of kids going to school, and a lot of people trying to get to their work, and because of the situation everywhere was cordoned off."
The community worker said those who were prevented from going work were "losing money" as a result.
'Shaken up'
Another woman said her elderly mother was one of the pensioners who had to leave their homes during the alert.
"I got the call from my daughter to go and get my mother out," the woman told Radio Foyle.
"She had a stroke five years ago and she was in a bad way when I got down (to her)."
"She was crying and very shaken up," the woman added.
Sinn Fein councillor Jay McCauley said many elderly residents left their homes in a hurry during the evacuation and did not have time to take their medication with them.
The councillor said the disruption was "definitely not wanted in this area".